Say what you will about
Bear Grylls
but the man certainly is a survivor. And I'm not just talking about his talent for staying alive in the wilderness. It wasn't all that long ago that he was weathering the storm of the revelation that his television show
Man vs. Wild
had staged some segments for dramatic effect. At the time, it was quite a scandal in the outdoor world, but Bear has proven to be a resilient guy and he has managed to put that speed bump behind him and become more popular than ever.
The Bear Grylls name has proven valuable to gear companies too. He has put his name on a line of clothing from
Craghoppers
, a nifty
new stand-up paddleboard/tent combo
and a number of knives and other tools from
Gerber
. I've had the good fortune of testing and reviewing several items in the Bear Grylls Gerber catalog and I have continually come away impressed. The blades are always high quality, the handles are sturdy and each of the products comes across as a well designed and built for use in the backcountry. Recently I got my hands on the
Bear's Survival Hatchet
and true to form it continues the legacy of a high quality and useful tool that you'll want in your pack.
First impressions are always important with any piece of gear and this hatchet makes a good one. It feels incredibly sturdy and well balanced in your hand. The hand axe weighs a mere 20.8 ounces (590 g) but when it strikes its target it hits with more punch than that weight would typically imply. That means this is a tool that feels great on your pack but still offers plenty of power when it comes time to put it to use.
The hatchet's rubberized handle make it easy to grip, even in wet conditions. It has a couple of finger notches ergonomically incorporated into the base, closer to the blade itself, that help you to wield the axe with more precision when doing fine fork. Slide your hand further down the handle when you need to strike with power. Either way, this is a hatchet that can handle all of your backcountry needs without missing a beat.
The blade is a mere 3.5 inches (8.9 cm) in length, which gives you an idea of just how compact this hatchet really is. Despite that, the sharp, incredibly durable blade will slice through wood with ease. Need some firewood? The Survival Hatchet will have you warm and dry in no time at all. The opposite end of the blade features a second striking surface, this time one that is flat and very versatile. Roll the axe over and you have a great hammer for pounding in tent stakes for instance, which will be much appreciated when pitching your tent on hard ground.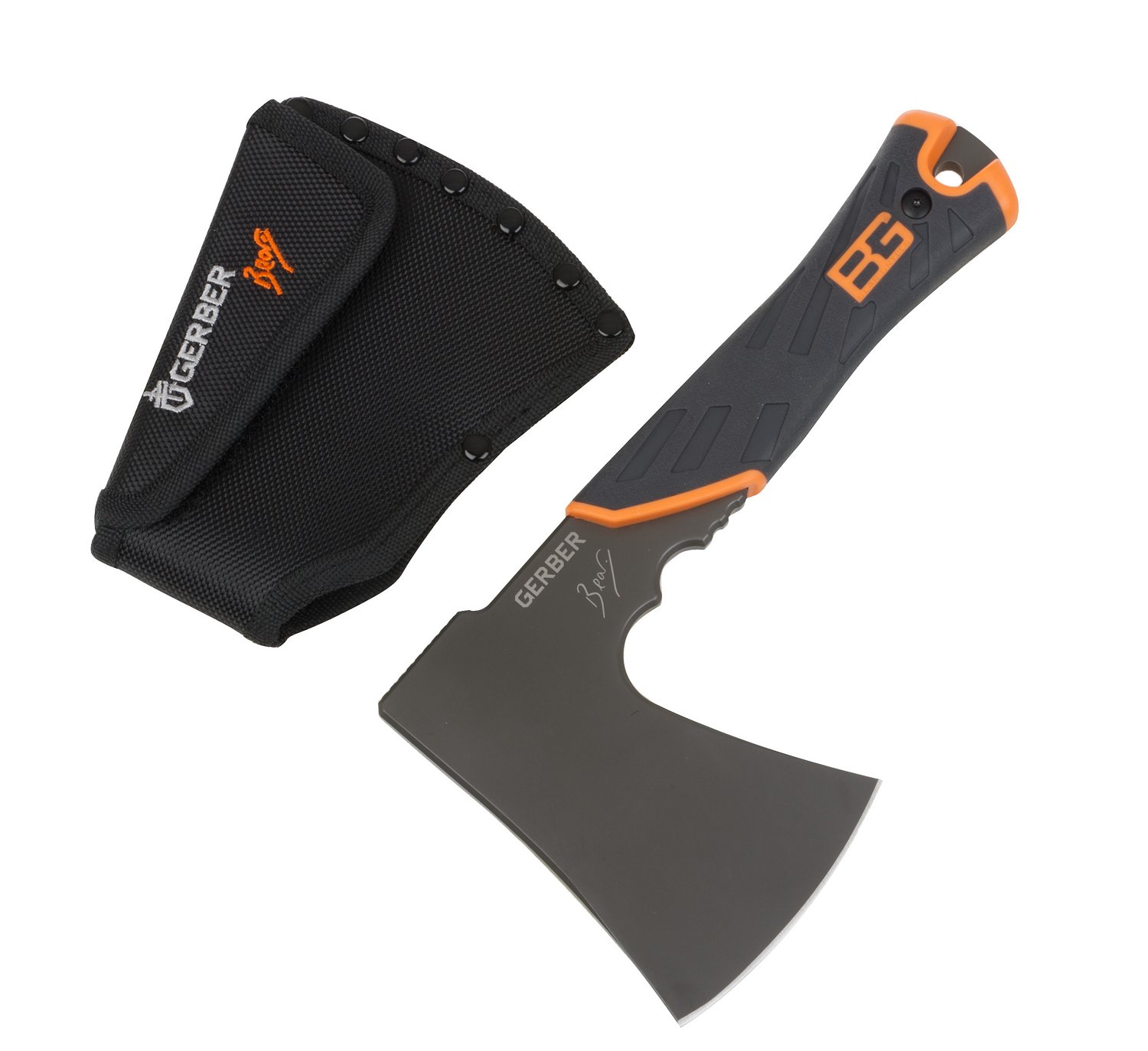 Gerber has included a nice nylon sheath for the axe that fits the blade nicely but doesn't detract from the compact nature of the axe. The sheath includes a pair of loops that make it easy to attach to your pack or your belt, keeping it within easy reach when needed. As with all of Bear's other products from Gerber, the Survival Hatchet also comes with a mini survival guide that has plenty of tips for staying alive in the backcountry.
All in all, this is another great product from Gerber and Bear. If you need a compact, lightweight hatchet for your backcountry adventures, than this is the perfect choice to add to your own gear closet. It is a durable, versatile and high quality tool that will prove to be worth its weight in gold.
Gerber prices the Survival Hatchet $48 but it can be found online for less. For instance,
Walmart sells the axe for just $32.35
, which is an incredible bargain for a tool like this one. The online store has other Bear Grylls products available as well, most of which can be found by
clicking here
.